---
One of my FAVORITE trips so far was my trip to Sicily. It was challenging to plan how to get around, but totally worth it.
Sicily is full of ancient and modern-day history. The island is part of Italy, but many who are born and raised in Sicily claim that they are primarily Sicilian rather than Italian. Northern Italians would agree: the Sicilians are their own people, despite being under Italian "rule". The relationship between Northern Italian people and Sicilians…? That is a whole other topic.
I think Sicily is one of the most underrated places to go visit, but I fear that it will one day attract too many tourists. Overtourism (attracting more tourists than a city/region can culturally or environmentally handle) can be devastating to the land and culture. If you've seen Rome's utter chaos during peak tourist season… you understand what I mean.
However, I do think Sicily is protected from overtourism by one thing: how difficult it is to travel within the Sicily.
---
When my travel BFF and I were planning our trip through Sicily, we planned to meet in Palermo at the Sunshine Hostel. From there, we were going to tour around the island, staying in Agrigento, Catania, Syracuse, then back to Palermo for our flights home.
Our plan meant we had to go straight south from Palermo to Agrigento, then across the island to Catania, then, south to Syracuse, then back up and around to Palermo. Even though the island is relatively small and these locations are only a few hours away from each other, it took a while to figure out the cheapest options.
Option 1: Trains
There are trains on the island, but we were cautioned against using them as our transportation around Sicily. This is what we heard:
They're always late, very unpredictable
The rails are always under construction
The routes are very indirect and inefficient
The times are limited
There are cheaper options
The biggest thing that deterred us from using the trains was the third point: indirect and inefficient. If you look at Sicily's train routes, they mostly go around the perimeter of the island with a few routes inland.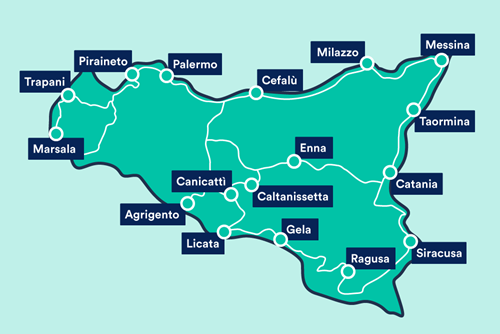 At first glance, we didn't think it was too bad. The routes did take some twists and turns, but nothing crazy. When we looked at our ticket options, many of the routes did take us the long way to our destination and we still needed to catch other transportation. Whether this was due to construction, we're not sure. We just knew that we didn't want to buy a train AND a bus ticket.
Relying on train routes also limited our options. If we really wanted to see more of the western part of the island, we would waste a lot of time re-riding the same lines.
Trains? They waste too much time and effort.
Option 2: A Rental Car
This was a legit option. We read that so many people loved having a rental in Sicily because it granted them freedom. The train routes were indirect, but the roads went from point A to point B.
Despite all the hype about having our own rental, we quickly crossed this option off. Rental cars just didn't seem viable because:
The available rental options were above our budget (then add in gas).
Most options are stick. One of us doesn't drive and the other only knows automatic. Automatic cars are more expensive to rent in Europe.
There was an unclear rule about age requirements when renting. We're both in our early 20s.
Rentals? Not a great option for us because we were too young and our skills were lacking…😢 but may be a great option for you.
Option 3: Bus Lines
This was the best (and only) option left. Bus routes followed efficient roadways, got us from point A to B, and were pretty cheap.
But this seems like such an easy solution, why is travel in Sicily still considered so difficult?
Sure, bus lines were efficient and cheap. However, if you look at timetables, they didn't always run when we needed them most. Popular routes to large or touristy cities were abundant, making the long routes easy… but the routes to smaller neighboring towns were few and far between.
For example: Catania to Mt. Etna or Taormina had multiple options throughout the day. Agrigento to Realmonte did not, which left us catching a pretty expensive taxi on a Sunday to spend a day at the Scala Dei Turchi.
Things to note bout bus routes in Sicily:
It's difficult to find routes on Sundays.
Many bus routes run according to school schedules.
Many bus routes are modified according to local events and markets.
Some bus routes stop running early, which may leave you stranded in a city after a day-trip.
Although these restrictions were irritating for us foreigners, I could appreciate why they were there. The transportation doesn't revolve around the tourist. It revolves around the Sicilians.
Buses? Cheap, direct, but need planning.
How We Got Around
We chose bus routes for all the big stretches, and we were forced (once) to take a taxi between small towns due to our own poor timing. If I remember correctly, that trip between Agrigento and Realmonte was 40 Euro each direction. It was NOT cheap (and we may have been ripped off), but we really wanted to see the famous Scala dei Turchi and we had some cash to spare by not choosing the rental car option.
We mostly used SAIS and Interbus lines to get between our destinations. You can buy at the bus (cash), at the local bar/shop, or at the agency office by the bus stations. They all sold the tickets for 10-20 Euro.
Thankfully, we planned ahead and saw the transportation struggles coming. I've read a few counts where people show up to Sicily and wing it (of which I am typically a huge advocate), but Sicily's transportation involves a little more foresight. We may have wasted way too much time had we just winged our trip.
With all that being said…
I FRIGGIN' LOVED SICILY
…and I will 100% be returning with some more cash, skills, and time to explore the entire island by car!
If you plan to travel to Sicily, please be a responsible tourist. Try to speak the language (even if it's a few words), support the local markets, and respect the people and the land.
Were you met by the same challenges of transportation in Sicily? Do you wish to visit some day? Tell me below!
Want more information? Contact me here.
---