When we visited Big Island Hawaii, we found that there are so many things to do in Hilo – it was our favorite spot on the island by far.
The two major towns on Big Island are Kona and Hilo. Kona is on the west side, and Hilo on the east. Weather patterns make Kona more dry and desert-like, while Hilo is rainy and tropical.
People often find Hilo annoyingly wet, but we thought the rain made it even more beautiful. Without the rain, the landscape would lack the greenery and waterfalls that make Hilo so beautiful.
However, Hilo's relationship with water does have a dark side. It's unfortunate geographic location on Big Island makes it a perfectly placed target for Tsunamis. The last two were in 1946 and 1960, both of which destroyed portions of the town and killed many people. Since these tragedies, Hilo has set many precautions in place to ensure that any future Tsunamis will spare lives of the locals.
If you plan to visit Big Island, pack your best rain jacket and boots so you can enjoy Hilo to the fullest.
Hilo has a lot to offer – don't let the water scare you away!
Best Things to Do in Hilo
1. Wander Hilo Town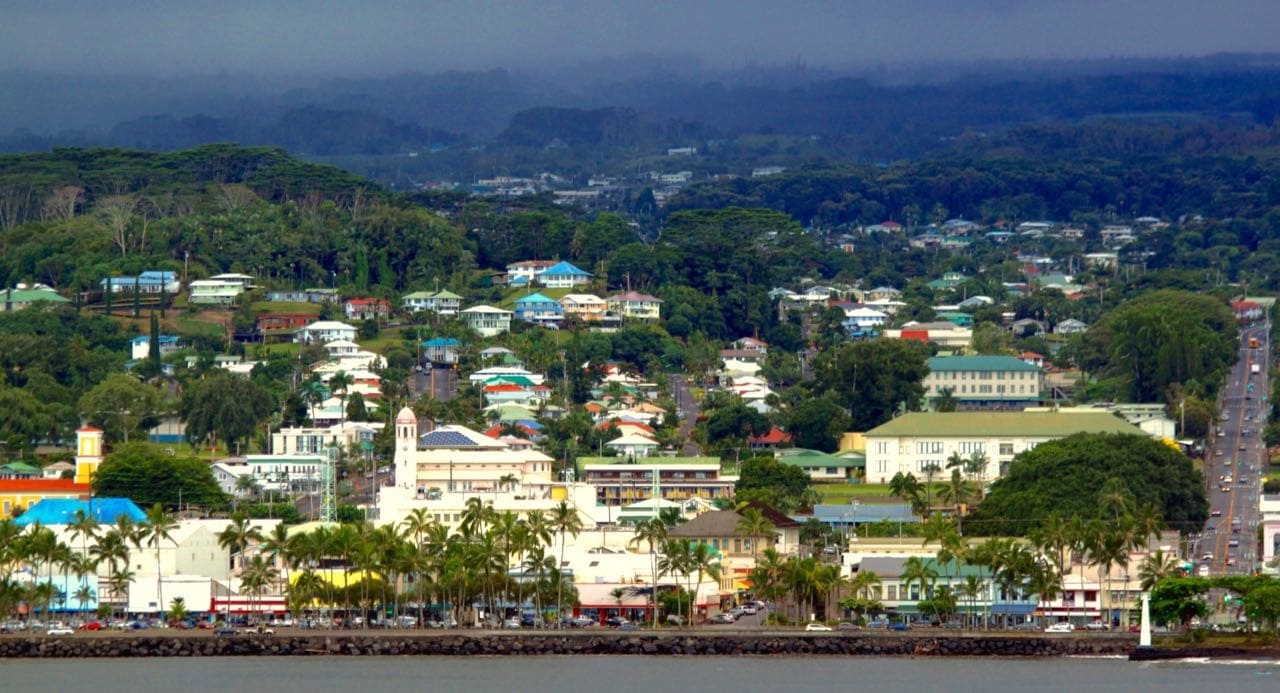 Hilo town is full of quaint stores, restaurants, and coffee shops. Wandering in the morning is best to avoid the afternoon rainclouds. You'll find people sitting outside with their morning coffee, meeting with friends, or heading to the Hilo Farmer's Market (open every day from 7 am to 3 pm).
We found a few great food spots: Bears Coffee is the cutest coffee shop/deli which seemed to be well known to locals, which is always a good sign. The Booch Bar was right next door, known for it's plant-based food and Big Island Booch, their kombucha product sold in grocery stores on O'ahu. For dinner, we liked The Temple Bar for their hip ambiance, tapas-style menu, and beer selection.
Looking for more food options in Hilo? Click here!
Hilo also has a small outdoor strip-mall on the main road which is hard to miss. The face of the mall is rustic and nostalgic, resembling an old western town. There are many shops, art galleries, and boutiques along this area if you're looking to shop local and find unique things.
2. Stay in a Bed and Breakfast
I can honestly say that the amount of B&B in this tiny area is mind-blowing. I'm not talking about the online AirBnB. I'm talking about the traditional, good ol' bed and breakfast experience.
Considering the quaint qualities of Hilo, I'm not surprised that B&Bs are so prominent here. Hilo's vibe is homey and comfortable.
The best part about staying at a B&B in Hilo? Supporting local business and interacting with local people. The concept of a B&B resembles home sharing rather than short-term renting, which is nicer to the local community's cost of living. You also get to talk to the local who owns the space, which allows you to become more closely connected to the culture.
3. Visit the Waterfalls
Hilo is RAINY – and you want it this way if you want to see some astounding waterfalls. Driving north of Hilo, you'll venture over valleys along the coast which feature rushing rapids, dense rainforest, and beautiful waterfalls. Some you can see just off the road. The most popular waterfalls in the Hilo area don't even require hiking at all, which means you can see a lot in one day.
Rainbow Falls and Akaka Falls are most convenient to visit from Hilo town. Both waterfalls have profound cultural significance. You can also drive upstream from Rainbow Falls to visit Boiling Pots and PeePee Falls.
4. Rent a Bike and Pedal to Coconut Island
There's a bike path along Hilo Bay. You can rent a bike at one of the Bikeshare locations and pedal along the path to Coconut Island, which is about 1 mile from historic Hilo.
Sure, you could drive there, but where's the fun in that?!
Along the way, you'll also hit Liliuokalani Gardens. It's an Japanese-style park with koi ponds and beautiful greenery.
You can easily make a morning out of this by grabbing food/snacks in Hilo town, then taking it to the island or the gardens for a picnic. There is a Bikeshare location near the park if you need to return it for a while.
5. Drive to Volcanoes National Park
Ok, this isn't exactly in Hilo, but it's close enough. I friggin' love National Parks. Many of my trips are almost designed around them. This one was no different. One of the main reasons why we wanted to head to Big Island was specifically to see Volcanoes National Park to see the most active volcano in Hawaii: Kilauea.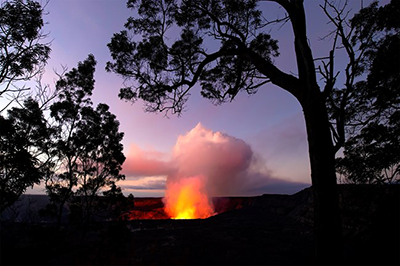 Volcanoes NPS is roughly a 30 minute drive from Hilo. There are plenty of sleeping accommodations around the park (including campsites), but it can also be an easy day trip. The park takes about 2 hours to drive through and really see, but if you want to do hikes and spend time reading about the park while you're there, you may need the entire day.
Read up on all the cool things you can do at Volcanoes NPS here!
6. Hike through the Lava Tubes
Volcanoes NPS has the famous Nāhuku (Thurston Lava Tubes), but if you want to see more, there's one right in the middle of Hilo formed by Mauna Loa.
Kaumana Lava Tubes begins just off the road about four miles into Hilo neighborhoods. The tubes are a bit creepy, cold, and dark. You would need a jacket and a reliable lantern to hike it well. The tube is about 20 miles long, but only the first mile is "hike-able".
7. Take the Scenic Drive
As you drive west from Hilo towards Waimea, you'll find a road clearly marked as the "scenic drive". TAKE IT.
The scenic drive is a beautiful stretch of road deep into jungle-like territory (which is also residential). There are a few hikes along the drive, but the drive itself is beautiful enough to admire from the car. The road winds over a gushing river which drops into a few small but powerful waterfalls.
This drive only takes a 10 minutes to see, but it's one you'll want to turn around and do again. It also foreshadows all the other waterfalls that lie further northwest from Hilo.
Enjoy Hilo!
Drop things you loved in the comments, and don't forget to share!